Feature
CITE THIS
Glicksman, E. (2013, April). Transgender today. Monitor on Psychology, 44(4). http://www.apa.org/monitor/2013/04/transgender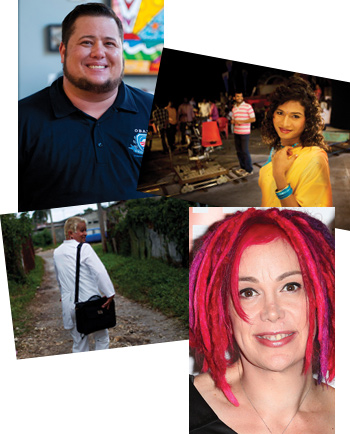 "Bronx 'Boy' Is Now a Girl," read the 1952 Associated Press headline, heralding that World War II veteran Christine (formerly George) Jorgensen had become the first American to announce publicly that she had undergone gender reassignment surgery. Jorgensen wrote an autobiography in 1967 that later became a movie, and used her celebrity to educate people about transsexuals. For several more decades, though, society stigmatized those who, like Jorgensen, maintained that "nature made a mistake."
Today, signs that we are entering a more hopeful era for transgender people are flourishing. Last year, Americans enthusiastically supported Chaz (nee Chastity) Bono as an openly transgender dancing contestant on national television. Hollywood film director ("The Matrix") Lana (nee Larry) Wachowski was celebrated in the press for sharing her painful past of growing up transgender.
In addition, more studies are exploring treatment for transgender people who seek it, as well as ways to combat the discrimination many still face. Plus, many universities — Brown, Cornell, Harvard, Princeton and Yale among them — are starting to offer health insurance plans
that include coverage for hormone therapy or gender-reassignment surgery for transgender students, a move unheard of just six years ago.
APA and other groups have increased their advocacy on behalf of transgender people as well. In 2008, APA's Council of Representatives adopted its Resolution on Transgender, Gender Identity and Gender Expression Nondiscrimination to support full equality and "the legal and social recognition of transgender individuals consistent with their gender identity and expression." The resolution also recognized the benefit and necessity of gender transition treatments for some people and called on insurance providers to cover these treatments when professional evaluations deemed them medically necessary.
Now, being transgender is being acknowledged as "part of the human condition," says lore m. dickey, PhD, visiting assistant professor at University of Southern Mississippi, who studies the area.
Treatment issues
In 1980, the American Psychiatric Association added gender identity disorder to the Diagnostic and Statistical Manual (DSM). While controversial, this was seen as a way to ensure that transgender people had access to care. In a nod to progress, the next DSM will replace "gender identity disorder" with "gender dysphoria" as a diagnosis.
The shift underscores that being transgender is not a disorder in itself: Treatment only is considered for transgender people who experience gender dysphoria — a feeling of intense distress that one's body is not consistent with the gender he or she feels they are, explains Walter Bockting, PhD, a clinical psychologist and co-director of the LGBT Health Initiative at Columbia University Medical Center.
Physicians usually require that any transgender client who wants a medical intervention be assessed first by a mental health provider. A letter may be requested stating that the client's mental health would improve from a gender transition. "Over the last two to three years, a number of medical associations have made statements about the medical necessity of transitional care for transgender people," says dickey. While still somewhat stigmatizing, a diagnosis of gender dysphoria ensures that more services for transgender people will be covered by health insurers.
It is standard practice to treat the client for any psychiatric conditions that might be present before starting a medical transition. After that, medical treatment may include hormone therapy to diminish unwanted secondary-sex characteristics and produce or enhance secondary-sex characteristics of the desired gender. A 2011 study led by Colt Meier, a psychology doctoral candidate at the University of Houston (Journal of Gay & Lesbian Mental Health) showed that hormone therapy was associated with lower levels of depression, anxiety and stress, as well as increased quality of life in a sample of more than 400 transgender men.
In addition to hormone therapy, transgender people may opt for surgery to alter breasts, genitalia or other sexual characteristics. Other transgender people may choose a "social transition" that involves only cosmetic changes in dress, grooming or name, for instance, and no medical intervention.
Psychologists help clients in transition by providing guidance on how to pace the process through small steps so as to make adjustments easier for themselves and the people they live and work with, Bockting says. He stresses the benefit of linking transgender clients to support groups or online communities where they can learn from others who have taken the same journey. Providing resources and counsel to families to help them understand and accept a transgender relative ultimately benefits the client, too, he adds. Other clients appreciate a therapist's help in navigating the frustrating barriers of changing a name and identity documents after a transition, he says.
APA is developing guidelines for practitioners who treat transgender and gender nonconforming clients — work being led by APA's Div. 44 (Society for the Psychological Study of Lesbian, Gay, Bisexual and Transgender Issues) and the APA Committee on Lesbian, Gay, Bisexual, and Transgender Concerns. A joint task force, co-chaired by dickey and Anneliese Singh, PhD, an associate professor at the University of Georgia, is expected to complete the guidelines in 2014. Practitioners can also reference guidelines published by the World Professional Association for Transgender Health: Standards of Care for the Health of Transsexual, Transgender, and Gender Nonconforming People.
The psychology of stigma
Despite the signs of more acceptance for transgender people, many studies show that they continue to face significant challenges. Research by Aaron T. Norton and Greg M. Herek, PhD, at University of California, Davis, for example, found that the rejection transgender people encounter is significantly harsher than the negative attitudes experienced by lesbian, gay and bisexual (LGB) people (Sex Roles: A Journal of Research, 2012). A 2009 study by the Gay, Lesbian and Straight Education Network also found that transgender students face much higher levels of harassment and violence than LGB students.
In an effort to better understand the transgender community, the Institute of Medicine (IOM) launched a study on the state of health of lesbian, gay, bisexual and transgender (LGBT) people. This 2011 report, The Health of Lesbian, Gay, Bisexual, and Transgender People: Building a Foundation for Better Understanding, found high rates of substance abuse, attempted suicide and HIV infection among other problems in transgender adults. The report concluded that the marginalization of transgender people from society is having a devastating effect on their physical and mental health.
A similar conclusion was reached by the 2011 Injustice at Every Turn, survey of nearly 6,450 transgender and gender nonconforming people conducted by the National Center for Transgender Equality and the National Gay and Lesbian Task Force. It found that as many as 63 percent of respondents experienced some form of discrimination due to bias about their gender identity, including the loss of a job, bullying and even physical and sexual assault. As many as 41 percent of respondents reported they had attempted suicide — a rate 25 times higher than that of the general population.
In a study now in press in the American Journal of Public Health, Bockting found that half of the transgender women and a third of the transgender men surveyed said they struggle with depression from the stigma, shame and isolation caused by how others treat them. Anxiety was a significant problem for them, too. People who were the youngest and least educated, and those from rural areas had the most psychological distress.
Other research led by Andrea L. Roberts, PhD, suggests that being gender-nonconforming (while not necessarily the same as transgender) puts children at higher risk for physical, psychological and sexual abuse and for post-traumatic stress disorder later on (Pediatrics, 2012).
Looking ahead
What can help prevent such psychological consequences? One approach is providing resources and counseling to families to help them understand and accept a transgender relative. Bockting's research shows that family acceptance — along with peer support and identity pride — are strong predictors of resilience for transgender people (American Journal of Public Health, in press).
Psychologists can play a supporting role as an educator or advocate in the client's school or workplace as well. "A transgender person's experience can be better because of five minutes the therapist spends consulting with a client's employer to smooth out problems," says Meier.
More research is essential, too. The 2011 IOM report highlighted the need for more data collection and research into the specific concerns of transgender people, including teens, older adults, and racial and ethnic subpopulations. Based on his research, Bockting believes that developing interventions focused on increasing family and peer support can be instrumental in buffering the effects of stigma that transgender people face. The authors of the Pediatrics study also want to see research on family interventions that can reduce the high risk for abuse faced by gender nonconforming children.
APA is also working to foster more acceptance, says Clinton Anderson, PhD, who directs APA's Lesbian, Gay, Bisexual and Transgender Concerns Office. APA's Task Force on Gender Identity, Gender Variance and Intersex Conditions began its efforts by conducting a survey on transgender, transsexual and intersex issues. Most of the transgender inquiries APA receives come from schools, which need reliable information on transgender issues for school personnel. "Schools have had to create policies and action plans for their transgender students without any clear guidance," Anderson says.
Getting better access to health care is a major issue for the transgender community, especially in reducing HIV risk, says Bockting. In the 2011 Injustice at Every Turndtrrfatrrv survey, 19 percent of respondents said they were denied medical care because of their gender identity and half of those surveyed had to teach their medical providers about transgender health care. The IOM report also identified the lack of culturally competent health care by providers as an obstacle in getting better care for transgender people.
The University of Houston's Meier, who has been working with transgender youth at the Montrose Center in Texas, is hopeful that as more clinical trials show the benefits of treatment for transgender persons, insurers will step up to provide adequate care for this community. He'd like to see longitudinal research that follows children from the first disclosure of being transgender through the effects of all related decisions made thereafter. Specifically, research needs to address how helpful various medical interventions are in improving the mental health and well-being of transgender people.
"While we still have far to go, we have learned not to oversimplify what being transgender means," says Bockting.
Eve Glicksman is a writer in the Washington, D.C., area.