Reasonable Accommodations Explained
Introduction
Reasonable accommodations are modifications or adjustments to the tasks, environment or to the way things are usually done that enable individuals with disabilities to have an equal opportunity to participate in an academic program or a job (U.S. Department of Education, 2007). Broad categories of accommodations include changes to the application process to ensure an equal opportunity to apply for program enrollment, changes that enable a student with a disability to perform the essential functions of the academic program, and changes that enable a student with a disability to enjoy equal benefits and privileges of the program (e.g., access to training).
The Americans with Disabilities Act (1990) stipulates that postsecondary institutions are responsible for providing necessary accommodations when a student discloses a disability. Specifically, psychology training programs are required to make reasonable adjustments or modifications to practices, policies and procedures, and to provide auxiliary aids and services for students with disabilities, unless to do so would "fundamentally alter" the nature of the programs or result in an "undue burden." Providing accommodations do not compromise the essential elements of a course or curriculum; nor do they weaken the academic standards or integrity of a course. Accommodations simply provide an alternative way to accomplish the course requirements by eliminating or reducing disability-related barriers. They provide a level playing field, not an unfair advantage.
Postsecondary student responsibilities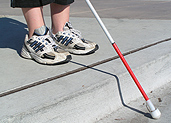 Under federal disability law, only if the student has disclosed a disability are you or your program responsible for providing accommodations. Most often, the student is advised to initiate the accommodation process with the disability resource center or office on campus. This office then determines whether the student is eligible for services and, if so, coordinates appropriate accommodations and services based on the documentation provided and in consultation with the student and other professionals, as appropriate. It is the also the responsibility of students who seek disability-related accommodations and services to provide written documentation of their disabilities. You or your program may also opt to obtain your own professional determination of whether specific requested accommodations are necessary.
Effectiveness of reasonable accommodations
Psychology programs are not required to provide the most sophisticated auxiliary aids and services available; however, they must effectively meet the needs of a student with a disability. They should be selected after consultation with the student who will use them. No aid or service will be useful unless it is successful in equalizing the opportunity for a particular student with a disability to participate in the education program or activity. Not all students with a similar disability benefit equally from an identical auxiliary aid or service.
The program must analyze the appropriateness of an aid or service in its specific context. For example, the type of accommodation needed by a student who is hearing-impaired may vary, depending upon whether the format is a large lecture hall or a seminar. With the one-way communication of a lecture, the service of a note taker may be adequate, but in the two-way communication of a seminar, an interpreter may be needed.
Personal aids and services
An issue that is often misunderstood by postsecondary officials and students is the provision of personal aids and services. Personal aids and services, including help in bathing, dressing or other personal care, are not required to be provided by postsecondary institutions. The Section 504 regulation states:
Recipients need not provide attendants, individually prescribed devices, readers for personal use or study, or other devices or services of a personal nature.
Title II of the Americans with Disabilities Act (ADA) similarly states that personal services are not required to be provided. Postsecondary schools are not obligated to provide personal services relating to certain individual academic activities. Personal attendants and individually prescribed devices are the responsibility of the student who has a disability and not of the institution. For example, readers may be provided for classroom use but institutions are not required to provide readers for personal use or for help during individual study time.
References
Americans with Disabilities Act of 1990, Pub. L. No. 101-336, § 2, 104 Stat. 328 (2000).

Bento, R. (1996). Faculty decision-making about "reasonable accommodations" for disabled college students: Information, ethical and attitudinal issues. College Student Journal, 30(4), 494-501.

Dailey, E. (2008). A survey of accommodations for psychology graduate students with learning disabilities: 35 years after the Rehabilitation Act of 1973 (Doctoral dissertation). The Wright Institute, Berkeley, CA. (DAI-A 69/12).

DO-IT (2011). Working together: Faculty and students with disabilities (PDF, 350KB) (brochure). Seattle, WA: University of Washington.

Florida State University Student Disability Resource Center. (2010). Guide to reasonable accommodations.

Kemp, H. V., Chen, J. S., Erickson, G. N., & Friesen, N. L. (2003). ADA accommodation of therapists with disabilities in clinical training. Women & Therapy, 26, 155-168. doi: 10.1300/J015v26n01_10

Lindstrom, J. H. (2007). Determining appropriate accommodations for postsecondary students with reading and written expression disorders. Learning Disabilities Research & Practice, 22(4), 229-236.

Olkin, R. (2010). The three Rs of supervising graduate psychology students with disabilities: Reading, writing, and reasonable accommodations. Women & Therapy, 33, 73-84. doi: 10.1080/02703140903404788
Rehabilitation Act of 1973, Public Law No. 93-112, 87 Stat. 355.
U.S. Department of Education. (2007). Disability employment 101: Appendix IV: Reasonable accommodations and the ADA.
Zhang, D., Landmark, L., Reber, A., Hsu, H. Y., Kwok, O., & Benz, M. (2010). University faculty knowledge, beliefs, and practices in providing reasonable accommodations to students with disabilities. Remedial and Special Education, 31(4), 276-286.
**Disclaimer: The goal of this webpage is to provide a general overview of major disability federal statutes, such as the Americans with Disabilities Act, and is intended to provide only general, nonspecific legal information. This web site and these articles are not legal advice and are not intended as legal advice.
Examples of accommodations by disability type
Disability Type

Accommodation Examples

Low vision

Seating near front of the class
Large print exams, handouts, signs, equipment/material labels
Contrast-enhanced printed materials
Image-enlarging technology (e.g., TV monitor, magnifier)
Electronic format for syllabi, assignments, readings, resources
Glare guards
Supplementary light source

Blindness

Audio-recorded, brailled or electronic-formatted lecture notes, handouts, and texts

Verbal or audio descriptions of visuals and videos

Raised-line drawings and tactile models of graphic materials

Braille lab signs and equipment labels; auditory lab warning signals

Adaptive lab equipment (e.g., talking calculators, tactile timers)

Computer with optical character reader, speech output, Braille screen display and Braille printer output

Hearing loss

Sign language interpreter

Seating near the instructor/speaker with an unobstructed view of the speaker's face • Real-time captioning

FM system

Note taker

Alternate location for testing that has reduced auditory and visual distraction

Visual aids and written supplements to spoken instructions

Written assignments, lab instructions, summaries, notes

Use of email for class and private discussions

Learning disability

Note taker

Audio recorded lectures

Captioned films

Extended time on exams and assignments

Alternative testing arrangements/locations

Instructions provided in multiple formats, including visual, aural and tactile

Computer with voice output, spellchecker and grammar checker

Concise oral instructions, clear written instructions and well organized visual aids

Mobility/
motor impairment

Notetaker, scribes, lab partners

Classrooms, labs and field trips in accessible locations, using accessible transportation

Computer with speech input, voice output and alternative keyboard

Wheelchair-friendly furniture and room arrangement (e.g., adjustable tables, space for a wheelchair, lab equipment located within reach)

Use of ramps and raised platforms for student's access
Class materials available in electronic format
Extended time for completion of activities

Speech impairment

Alternative assignments for oral presentations (e.g., written assignments, one-to-one presentation)

Course substitutions

Flexibility with in-class discussions (e.g., consider online discussion boards)

Chronic health condition

Notetakers

Flexible attendance requirements

Extra exam time and allowances for breaks

Assignments made available in electronic format

Use of email to facilitate communication
References
Association for Higher Education and Disability, email correspondence, 2011.

DO-IT (2011). Working together: Faculty and students with disabilities (PDF, 350KB) (brochure). Seattle, WA: University of Washington.

Royer, J. M., & Randall, J. (2012). Testing accommodations for students with disabilities. In K. R. Harris, S. Graham, T. Urdan, A. G. Bus, S. Major, & H. L. Swanson (Eds.), APA educational psychology handbook, Volume 3: Application to teaching and learning (pp. 139-158). Washington, D.C.: American Psychological Association.
Accommodations for specific academic activities
Academic Activity

Examples of Reasonable Accommodations

Therapy or assessment labs

Providing a lab partner or assistant can facilitate involvement in a lab activity for some students with disabilities
Allowing extra time to set up a lab or complete the work can provide an effective accommodation for some students with disabilities
Providing an adjustable workstation
For students with hearing impairments, providing access to video demonstrations or software with captioning, providing written instructions or captioned video instructions prior to class, and providing preferential seating to view demonstrations and watch the instructor can all serve to maximize their participation
For students who are blind, providing tactile drawings or graphs, using clear verbal descriptions of demonstrations or visual aids, and employing adaptive lab equipment can facilitate their participation
For students with learning disabilities, using a combination of written, verbal and pictorial instructions, creating opportunities to work with lab partners rather than alone, and extending the time allotted for set-up and process can facilitate their participation

Testing and assessment

Modifying testing and assessment materials, such as Braille versions of therapist-administered inventories
Adjusting the environment (e.g., adding supplemental lighting) to facilitate ease of communication
Refer to the testing handbook for more information

Comprehensive exams

Providing an alternative, quiet testing location
Providing test materials in alternative formats
Allowing extra time to complete the examination
Providing reading or scribe services
For students who are blind, accommodations may include tests given in electronic formats, Braille or on audiotape
For students with mobility disabilities, providing accessible seating, scribes, extended test-taking time and electronic versions of the test are effective accommodations

Thesis or dissertation projects

Providing means for accessing online journal databases and other resources for literature reviews (e.g., referring students to read-aloud or text-magnification computers at the university's library)
Typical accommodations that can be used to facilitate maximum participation of students with learning disabilities in these activities include word processors with grammar and spelling checkers, word processors with outlining and highlighting capabilities, word prediction software, phonetic spelling software that can render phonetic spelling into correctly spelled words, and screen reading software and speech output systems
For students who are blind, using speech reading software and speech output systems and braille translation software can facilitate their participation
For students with mental disabilities, providing note takers, audiotaped class sessions, and being flexible with attendance requirements can be used to facilitate maximum participation

Practicum, internship, and clinical experiences

Modifying therapy and assessment rooms at internship and practicum sites (e.g., arranging furniture, using adjustable tables) for students with mobility impairments
For students who are deaf or hard of hearing, providing FM loop systems, sign language interpreters, speech-to-text services and extended time
Changing the location of protocols, forms and other supplies so they are more accessible to an intern in a wheelchair
Providing printed material in large print, in Braille and/or on audiotape
References
Frequently asked questions
Q: What if students with disabilities require modifications or auxiliary aids during an examination?

A student may need an auxiliary aid or service in order to successfully complete a course exam. This may mean that a student be allowed to give oral rather than written answers. It also may be possible for a student to present a tape containing the oral examination response. A test should ultimately measure a student's achievements and not the extent of the disability.
Q: Can psychology programs treat a foreign student with disabilities who needs auxiliary aids differently than American students?

No, an institution may not treat a foreign student who needs auxiliary aids differently than an American student. A postsecondary institution must provide to a foreign student with a disability the same type of auxiliary aids and services it would provide to an American student with a disability. Section 504 and the Americans with Disabilities Act (ADA) require that the provision of services be based on a student's disability and not on such other criteria as nationality.
Q: Are institutions responsible for providing auxiliary services to disabled students in filling out financial aid and student employment applications, or other forms of necessary paperwork?

Yes, an institution must provide services to students with disabilities who may need assistance in filling out aid applications or other forms. If the student requesting assistance is still in the process of being evaluated to determine eligibility for an auxiliary aid or service, help with this paperwork by the institution is mandated in the interim.
Q: Does a postsecondary institution have to provide auxiliary aids and services for a nondegree student?

Yes, students with disabilities who are auditing classes or who otherwise are not working for a degree must be provided auxiliary aids and services to the same extent as students who are in a degree-granting program.
Q: Are institutions required to provide a sign language interpreter to a student who is deaf or hard of hearing?

Sign language interpreters are one of several options for promoting effective communication with students who are deaf or hard of hearing. If a student discloses a hearing loss and requests sign language interpreters, you are required by law to provide them or work with the student to provide alternative accommodations that will successfully promote effective communication.
The answers to these questions were provided by the ADA Information Center of the Mid-Atlantic Region.
Case example: Dyslexia
Case Summary
Ms. C is a graduate student with dyslexia in a counseling program. She enjoyed the "hands-on" face-to-face work with clients, and she understood the lectures well, but she struggled with required readings, note-taking during class, conducting literature reviews, taking written exams and completing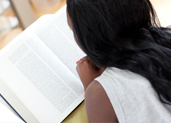 papers on time. In the past, she would stay up late every night to complete the readings and she received additional time on essay exams. She found the extra exam time to be helpful, but as she progressed in her program, reading assignments become longer, and program requirements become more intensive, she had a difficult time keeping up with her work despite her extra efforts. In the middle of her third semester, Ms. C was stressed and exhausted, and decided to ask her professors for additional accommodations. She explained her situation and requested additional time on written assignments and access to lecture materials in advance to facilitate note-taking. One of her professors said that she currently had an A in his class, so he questioned her need any additional time or accommodations. He said that graduate school was difficult and students are expected to sometimes stay up late to complete readings and assignments. He also thought it was in her best interest to do as much as she could without accommodations because those "luxuries" would not be available in the real world.
Discussion
Under the ADA, programs and training sites are legally required to provide reasonable accommodations to qualified students with disabilities. Ms. C disclosed her disability and established need for accommodations based on this disability. Her requested accommodations (e.g., extended time on exams and assignments; advanced access to class materials) were relatively standard for individuals with dyslexia. Moreover, she had the legal right to request a change in accommodations if they were no longer sufficiently effective for her. In this situation, Ms. C should return to her university's disability services office. If they deem her newly requested accommodations as reasonable and appropriate for task demands and the nature of her disability, her instructors have the legal obligation to comply with those requests.
This case example was developed in collaboration with the ADA Information Center of the Mid-Atlantic Region.
Case example: Multiple sclerosis
Case Summary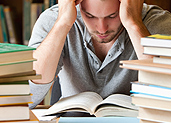 Mr. T is a student with multiple sclerosis who was granted the use of a scribe for recording answers during his comprehensive exams. This accommodation was deemed reasonable because his disability led to a functional impairment in writing that could be fairly accommodated through dictation. Even with these accommodations, however, he failed his exams. Mr. T then petitioned the school for both a scribe and extra time for the next exam cycle stating that "having a scribe was not enough to help me pass the test. Now I need extra time so I have more time to think about my answers." This request was denied.
Discussion
The denial of his request was deemed legal by the court system. The ADA does not mandate that accommodations be applied until success is achieved. Accommodations are designed to reduce the impact of one's disability on a task or activity, not guarantee a student's success. In other words, accommodations should correct or circumvent functional impairments such that an individual with a disability has a fair opportunity to succeed despite his or his particular disability.
This case example was developed in collaboration with the ADA Information Center of the Mid-Atlantic Region.
DisABILITY Resources Toolbox (DART)