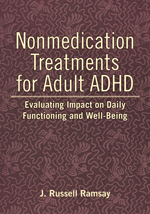 See larger image
Nonmedication Treatments for Adult ADHD: Evaluating Impact on Daily Functioning and Well-Being
Pages: 236
Item #: 4317203
ISBN: 978-1-4338-0564-6
List Price: $39.95
Member/Affiliate Price: $29.95
Copyright: 2010
Format: Hardcover
Availability: In Stock
Overview
"Oh, my child will grow out of it" is a common refrain from parents of children with ADHD. Unfortunately, it is increasingly clear that many children do not "grow out" of their ADHD. Instead, these children will mature into adults who will experience continued difficulties related to their disorder throughout adulthood. Many of these adults with ADHD will seek treatment to alleviate these difficulties, and while some will find medication to adequately treat their symptoms, for others, adjunctive treatments will also play an essential role in helping them achieve desired results in their daily lives.
In Nonmedication Treatments for Adult ADHD: Evaluating Impact on Daily Functioning and Well-Being, Dr. J. Russell Ramsay provides a comprehensive review of the current status of nonmedication interventions available for adults with ADHD. After introducing and reviewing the history and features of ADHD in adults, Dr. Ramsay explores a wide range of treatment options available to clinicians today.
Chapter topics include psychosocial treatment, academic support and accommodations for postsecondary students, career counseling and workplace support, relationships and social functioning, neurofeedback and neurocognitive training, and complementary and alternative treatments.
Practicing clinicians, clinicians-in-training, and researchers searching for a current summary of the nonmedication treatment options and a map to future research will find this volume to be a tremendous resource.
Table of Contents
Acknowledgments
Introduction
ADHD in Adulthood
Psychosocial Treatments
Academic Support and Accommodations for Postsecondary Students With ADHD
Career Counseling and Workplace Support
Relationships and Social Functioning
Neurofeedback and Neurocognitive Training
Complementary and Alternative Treatments
Implications for Clinicians, Challenges and Future Directions in Research, and Final Thoughts
Appendix A: Resources
Appendix B: Medications for Adult Attention-Deficit/Hyperactivity Disorder (ADHD)
References
Index
About the Author
Author Bio
J. Russell ("Russ") Ramsay, PhD, is a licensed psychologist and assistant professor of psychology in psychiatry at the University of Pennsylvania (PENN) School of Medicine. He earned his doctorate in clinical psychology from the Pacific Graduate School of Psychology and completed a postdoctoral fellowship at PENN's Center for Cognitive Therapy. In addition to continuing to work as a senior staff psychologist at the Center for Cognitive Therapy, in 1999 he cofounded and still serves as the codirector of PENN's Adult Adult Attention-Deficit/Hyperactivity Disorder (ADHD) Treatment and Research Program.
Dr. Ramsay has authored numerous professional articles and book chapters and has lectured internationally on various issues related to adult ADHD as well as the principles of cognitive behavioral therapy. He is coauthor of Cognitive Behavioral Therapy for Adult ADHD: An Integrative Psychosocial and Medical Approach and serves on the editorial boards of the Journal of Attention Disorders and the Journal of Psychotherapy Integration. He also serves on the professional advisory boards of the Attention Deficit Disorder Association (ADDA) and the Bucks County, Pennsylvania, chapter of Children and Adults with Attention-Deficit/Hyperactivity Disorder (CHADD).
Dr. Ramsay is active in community education and has presented at regional meetings of mental health organizations and CHADD chapters; been interviewed for numerous magazine, newspaper, and online articles; and served as an invited guest on public radio, television, and America Online. He also provides psychotherapy supervision to psychiatric residents and other trainees at PENN and was recipient of the 2008 Martin P. Szuba Award for excellence in clinical teaching and research in the Department of Psychiatry at the PENN School of Medicine.
Reviews & Awards
In summary, this book is an excellent resource for both the clinician and the researcher. It provides thorough coverage of all nonmedication treatments for adults with ADHD, with clear descriptions of the therapeutic methods, and incorporated highly readable reviews of the relevant research and gaps in research. Both mainstream and less orthodox interventions are included. The text blends sound clinical insights and reasoning with application of scientific research principles to review and make recommendations concerning the selection of appropriate treatments for clinical application. I very much enjoyed reading this book and, after I turned my last page, found myself frankly unable to identify any way in which it could have been improved.
—Journal of Attention Disorders
Read a review of this title from the PsycCRITIQUES® database (PDF, 28KB)
List Price: $39.95
Member/Affiliate Price: $29.95