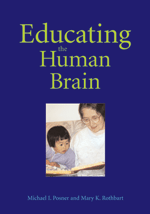 See larger image
Educating the Human Brain
Pages: 263
Item #: 4318029
ISBN: 978-1-59147-381-7
List Price: $19.95
Member/Affiliate Price: $19.95
Copyright: 2007
Format: Hardcover
Availability: In Stock
FREE Shipping
For individuals in the U.S. & U.S. territories
Overview
Educating the Human Brain is the product of a quarter century of research. This book provides an empirical account of the early development of attention and self regulation in infants and young children. It examines the brain areas involved in regulatory networks, their connectivity, and how their development is influenced by genes and experience. Relying on the latest techniques in cognitive and temperament measurement, neuroimaging, and molecular genetics, the book integrates research on neural networks common to all of us with studies of individual differences.
In this book, the authors explain where, when, and how the brain performs functions that are necessary for learning. Such functions include attending to information; controlling attention through effort; regulating the interplay of emotion with cognition; and coding, organizing, and retrieving information. The authors suggest how these aspects of brain development can support school readiness, literacy, numeracy, and expertise. The audience for this book includes neuroscientists as well as developmental and educational psychologists who have interest in the latest brain research. The many helpful visuals — including brain diagrams, pictures and photographs of experimental set-ups, and graphs and tables displaying key data — also give this book appeal for graduate students.
Table of Contents
List of Tables and Figures
Preface
Overview
Education, Psychology, and the Brain
Relating Brain and Mind
Learning to Look
A Mind of One's Own
Genes and Environment
Temperament and Learning
Literacy
Numeracy
Expertise
Preparing for School
References
Author Index
Subject Index
About the Authors
Author Bios
Michael I. Posner, PhD, is currently professor emeritus at the University of Oregon, Eugene, and adjunct professor of psychology in psychiatry at the Weill Medical College of Cornell University, Ithaca, New York, where he served as founding director of the Sackler Institute. Dr. Posner is best known for his work with Marcus E. Raichle on imaging the human brain during cognitive tasks. He has worked on the anatomy, circuitry, development, and genetics of three attentional networks underlying maintaining alertness, orienting to sensory events, and voluntary control of thoughts and ideas. His methods for measuring these networks have been applied to a wide range of neurological, psychiatric, and developmental disorders. Since 1980, he has worked with Mary K. Rothbart to understand the interaction of specific experience and genes in the development and efficiency of attentional networks.
Mary K. Rothbart, PhD, is a distinguished professor emerita at the University of Oregon, Eugene. She studies temperament and emotional and social development, and for the last 25 years she has worked with Michael I. Posner studying the development of attention and its relation to temperamental effortful control. She coedited the book Temperament in Childhood and coauthored, with Holly Ruff, the book Attention in Early Development. She has also made contributions to the education and support of new parents through the Birth to Three organization in Eugene, Oregon. This year, the group honored her as a "Champion for Children."
Reviews & Awards
In their new book, Educating the Human Brain, Michael Posner and Mary Rothbart boldly bring the newest branch of developmental psychology — developmental cognitive neuroscience—into this tradition. The authors' goal is straightforward — to take our burgeoning knowledge of the development of the human brain and apply that information to the way we educate. It is an ambitious undertaking, and the authors have done an admirable job. Their volume is at once true to the complexity of the science of brain development and to the techniques used to measure brain activity (functional neuroimaging, electroencephalography and evoked response potentials), and at the same time highly approachable for the novice to neuroscience. It is a worthwhile read, both for educators looking for guidance on how new neuroscientific research can inform their practice and for developmental psychologists hoping to bend their research programs toward practical applications in the classroom.
—Cognitive Development
List Price: $19.95
Member/Affiliate Price: $19.95