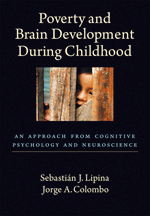 See larger image
Poverty and Brain Development During Childhood : An Approach From Cognitive Psychology and Neuroscience
Pages: 172
Item #: 4318053
ISBN: 978-1-4338-0445-8
List Price: $39.95
Member/Affiliate Price: $29.95
Copyright: 2009
Format: Hardcover
Availability: In Stock
FREE Shipping
For individuals in the U.S. & U.S. territories
Overview
Poverty remains an urgent crisis worldwide. In the United States, 28.6 million children live in low-income families and 12.7 million children live in poor families. In nations belonging to the Organization for Economic Co-operation and Development (OECD), 47 million children live below national poverty lines. These figures pertain to industrialized countries; rates of child poverty in some developing nations exceed 60%.
Poverty and Brain Development During Childhood examines how a range of early social and material deprivations affect structural and functional brain organization and cognitive and socioemotional development postnatally and throughout childhood.
Do conceptual and operational definitions of poverty capture the true nature and complexity of the multidimensional problem and properly guide research?

How does poverty affect physical and mental health?
What do contemporary neuroimaging and behavioral studies reveal?
Studying these and other equally compelling questions, the authors apply a suite of neuroscientific and cognitive frameworks to examine the cognitive performance of children living in poverty in different countries. Looking to the future and to the development of effective policy, the authors analyze the potential contributions of the neuroscientific disciplines to the design of early interventions aimed at optimizing the cognitive performance of socioeconomically disadvantaged children.
Table of Contents
List of Tables and Figures
Foreword
Overview
Conceptualization and Measurement of Poverty
Experimental Models: Effects of Physical and Social Privation on Brain Development
Effects of Poverty on Development I: Health, Educational, and Psychometric Perspectives
Effects of Poverty on Development II: Cognitive Neuroscience Perspectives
Intervention Programs
Contributions to Public Policy
References
Index
About the Authors
Author Bios
Sebastián J. Lipina, PhD, is an assistant investigator of the Consejo Nacional de Investigaciones Científicas y Técnicas, Buenos Aires, Argentina; codirector of the Unidad de Neurobiología Aplicada at the Centro de Educación Médica e Investigaciones Clínicas "Norberto Quirno," Buenos Aires, Argentina; and professor of social vulnerability and cognitive development at the School of Humanities, Universidad Nacional de San Martin, Buenos Aires, Argentina.
He works in the area of cognitive neuroscience, analyzing processes of brain organization and reorganization and carrying out experimental and applied models with humans and nonhuman primates with an interdisciplinary team of colleagues directed by Jorge A. Colombo. One of these projects involves the study of poverty's impact on cognitive development and the design of interventions aimed at improving children's cognitive performance through cognitive exercises and training in laboratory and school settings.
Jorge A. Colombo, MD, PhD, performed research in the field of comparative neuroendocrinology at Bernardo A. Houssay's Instituto de Biología y Medicina Experimental, Buenos Aires, Argentina; at the Department of Anatomy, University of California, Los Angeles (UCLA), directed by Charles Sawyer; and at the Brain Research Institute, UCLA, as a fellow of the Ford Foundation's Fund for Research in Psychiatry. During the 1980s, he was a professor at the College of Medicine, University of South Florida, Tampa, where he used several research models to explore hypothalamic control of pituitary function and started work on neural cell transplantation.
A recipient of several fellowships, professorships, and grants, he researched cell transplantation procedures in A. Bjorklund's and Y. Ben-Ari's laboratories in Sweden and France, respectively. He returned to his home country of Argentina a few years after the fall of the military coup, where he became principal investigator of the Consejo Nacional de Investigaciones Científicas y Técnicas, Buenos Aires, and founder and director of the Unidad de Neurobiología Aplicada at the Centro de Educación Médica e Investigaciones Clínicas "Norberto Quirno," Buenos Aires.
During this period, his most visible work included cell transplantation in nonhuman primates and the characterization of the interlaminar astroglia. He performed collaborative work with Karl Zilles (Dusseldorff, Germany) and Andreas Reichenbach (Leipzig, Germany) as a fellow of the Alexander von Humboldt Foundation. More recently, he has included research on the impact of poverty on child brain development among his social and scientific concerns.
List Price: $39.95
Member/Affiliate Price: $29.95