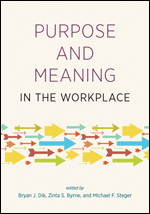 See larger image
Purpose and Meaning in the Workplace
Pages: 248
Item #: 4318117
ISBN: 978-1-4338-1314-6
List Price: $69.95
Member/Affiliate Price: $49.95
Copyright: 2013
Format: Hardcover
Availability: In Stock
FREE Shipping
For individuals in the U.S. & U.S. territories
Overview
Work is one of the fundamental experiences of human life. Yet very few of us are lucky enough to find truly fulfilling jobs. In recent decades, as businesses have come to understand the crucial link between happiness and productivity, researchers have focused increasingly on factors such as the nature of the work itself, how well it is suited to the worker, and the ways in which employees can derive meaning and purpose from their work.
In this groundbreaking book, editors Bryan Dik, Zinta Byrne, and Michael Steger have brought together experts in counseling and vocational psychology, industrial and organizational psychology, and the fields of executive coaching and management to investigate how meaningful work can be fostered and sustained throughout a wide range of work environments.
Theoretically-grounded yet filled with practical strategies for the workplace, this book will be an important resource for academics, executive consultants, career counselors, human resource professionals, and organizational leaders alike.
Table of Contents
Contributors
Foreword
Introduction
I. Cultivating a Meaningful Career
Career Construction: Heeding the Call of the Heart
Paul J. Hartung and Brian J. Tabor
A Person–Environment Fit Approach to Cultivating Meaning
Jo-Ida C. Hansen
Meaningful Work and the Protean Career
Douglas T. Hall, Elana Feldman, and Najung Kim
II. Meaning Making on the Job
Job Crafting and Meaningful Work
Justin M. Berg, Jane E. Dutton, and Amy Wrzesniewski
Employee Engagement and Meaningful Work
William A. Kahn and Steven Fellows
Profane or Profound? Finding Meaning in Dirty Work
Blake E. Ashforth and Glen E. Kreiner
Promoting Meaning and Purpose at Work: A Social-Cognitive Perspective
Robert W. Lent
III. Leading a Meaningful Organization
Doing Well, Doing Good, and Doing With: Organizational Practices for Effectively Cultivating Meaningful Work
Michael G. Pratt, Camille Pradies, and Douglas A. Lepisto
Transformational Leadership and Meaningful Work
Fred O. Walumbwa, Amanda L. Christensen, and Michael K. Muchiri
Connecting the Dots: Coaching Leaders to Turn Values Into Meaningful Work
Dianne R. Stober, Stefanie Putter, and Lauren Garrison
Index
About the Editors
Editor Bios
Bryan J. Dik, PhD, is an associate professor of psychology at Colorado State University and cofounder and chief science officer of Career Analytics Network/jobZology.
Dr. Dik received a BA in psychology from Calvin College and a PhD in counseling psychology from the University of Minnesota. His research is primarily in the area of career development, especially perceptions of work as a calling; meaning, purpose, religion, and spirituality in career decision making and planning; measurement of vocational interests; and career development interventions.
He serves on the editorial boards of six research journals, including the Journal of Counseling Psychology, the Journal of Vocational Behavior, and the Journal of Career Assessment. He was coeditor of Psychology of Religion and Workplace Spirituality and coauthor of Make Your Job a Calling: How the Psychology of Vocation Can Change Your Life at Work.
Dr. Dik is the recipient of the 2010 Early Career Professional Award from the Society for Vocational Psychology.
Zinta S. Byrne, PhD, is an industrial and organizational (I/O) psychologist with interests in employee engagement and retention, organizational (in)justice and politics, stress within the workplace, computer-mediated communication, and other related topics associated with the employee–organization relationship.
Her research interests originally developed out of her 10 years of work experience as a research and development computer software design and development engineer and research and development project manager for Hewlett-Packard Company, prior to retraining as an I/O psychologist. Her experience working for Personnel Decisions International as the western regional manager for the Global Products Division shortly after completing her PhD in psychology also influenced her research interests.
She is currently an associate professor of psychology at Colorado State University and owner and president of Atniz Consulting, LLC (a consulting business focused on employee–organization relations, productivity, and leadership coaching).
She has published articles and chapters in psychology and management journals and books, has presented at psychology and management conferences, reviews for and serves on a number of editorial boards, and has the forthcoming books Organizational Psychology and Behavior: An Integrated Approach to Understanding the Workplace and Understanding What Employee Engagement Is and Is Not: Implications for Theory, Research, and Practice.
Michael F. Steger, PhD, is an associate professor of counseling psychology and applied social psychology at Colorado State University.
Dr. Steger received his BA from Macalester College; his MS from University of Oregon; and his PhD, with a dual specialization in counseling and personality psychology, from the University of Minnesota.
His research interests concern better understanding the factors that promote human flourishing and that ameliorate psychological suffering. In particular, he has focused on researching how people generate the sense that their lives are meaningful, as well as on investigating the benefits of living a meaningful life. He is intensely interested in how the concept of meaning can be applied to create healthier, happier, and more productive workplaces. His current research examines meaning in work and in life, health, and health-risking and health-promoting behaviors.
He is an associate editor for the Journal of Personality and serves on the editorial boards of numerous journals. His previous book was Designing Positive Psychology: Taking Stock and Moving Forward.
Reviews & Awards
Although the core idea of this book is not new (work that has meaning and purpose is good for individuals and organizations), the contributors present some valuable new insights and applications. Purpose and Meaning in the Workplace is thoughtfully organized around three important themes, and each chapter is clear and concise. There is a nice balance among theoretical, research, and applied issues.
—PsycCRITIQUES
List Price: $69.95
Member/Affiliate Price: $49.95