APA Books®
Featured

A Student's Guide to Assessment and Diagnosis Using the ICD-10-CM
Softcover - November 2015
List Price : $29.95
Member/Affiliate Price: $29.95
This book provides graduate students and psychology interns with a conceptual framework for diagnosis and assessment using the ICD-10-CM. Using three detailed case examples, it teaches the fundamental critical thinking skills that are essential in real-life clinical scenarios.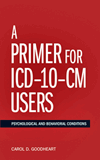 A Primer for ICD-10-CM Users
Spiral Bound - 2014
List Price : $19.95
Member/Affiliate Price: $14.95
This book provides clinicians with a brief introduction to the World Health Organization's ICD-10-CM and readies them for upcoming revisions, including the transition to the ICD-11.
Resource Centers
Librarians
Get institutional database pricing, vendor news, licensing information and special offers
Authors and Reviewers
Find guidelines for submitting proposals, calls for papers, tips for preparing manuscripts and more
Highlights in Psychological Research
Free summaries of selected articles and research trends in journals published by APA.
Custom Publishing
APA Custom Course Books
provides instructors the ability to create customized books for their course needs using a simple, easy-to-navigate, web-based interface.
APA Books Highlights
Abnormal Psychology
LifeTools
Coming Soon