Reports & Brochures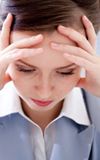 Coping with stress at work
Americans are known for placing great emphasis on work and career. Working hard, however, should not be confused with overworking at the expense of relationships and physical health.
Strategies for controlling your anger
Everybody gets angry, but these tips can help you prevent out-of-control rage from playing havoc with your body and affecting those around you.
Reports
2012 President's Report
Psychology and Global Climate Change